IRFU Charitable Trust Lunch 2013
On Friday, November 15 the IRFU Charitable Trust hosted a lunch kindly sponsored by Aon at the Clyde Court Hotel, Lansdowne Road. The lunch raises much needed funds for the IRFU Charitable Trust which supports seriously injured players.
This is the 10th year that Aon have sponsored a major fundraising event for the IRFU Charitable Trust.
Aon presented Ronan O'Gara with an award for his contribution to Irish rugby, as Ireland's most-capped player and all-time highest points scorer for Ireland.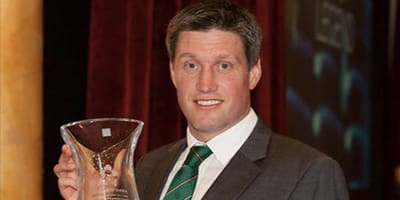 Mick Galwey was the compère for the afternoon and also sat in the hot seat with Ronan to be interviewed by Michael Corcoran.
The Trust were delighted to have Dick Spring, former Tánaiste and ex-Ireland nternational as guest speaker, who gave a brilliant, most amusing and interesting speech on the amateur playing era and had everyone greatly entertained.
Another highlight of the afternoon was some unruly uninvited Operatic Singing Waiters who ended up bringing the house down and had everyone waving their napkins to 'Libiamo'.
Among those attending were Jack Kyle, Ronnie Dawson, Ollie Campbell, Syd Millar, Ronnie Delaney, Doug Howlett, Philip Orr, Ivan Yates, Anne Doyle and George Hook.
We were delighted to have four of our seriously injured players, Mick O'Connell who played with Ronan before his injury, Bernard Healy, Ciaran McCarthy and Donal O'Flynn join us for the afternoon.
The afternoon also included a raffle with prizes including a signed Irish jersey, match tickets, two nights' stay at the Killashee House Hotel, Liverpool and Newcastle soccer tickets, hampers, lunches and jewellery.
Many guests stayed on into the early hours of the morning, chatting with ROG who very willingly posed for many photos.
Thanks go to Mick Quinn, Michael Whelan, Jacinta O'Rourke, Rory Larkin, David Bell and Sharon Coffey for helping to organise such an entertaining afternoon. It is a good sign when many have already pre-booked their tickets for next year.
All proceeds will go to our Fund for seriously injured rugby players.