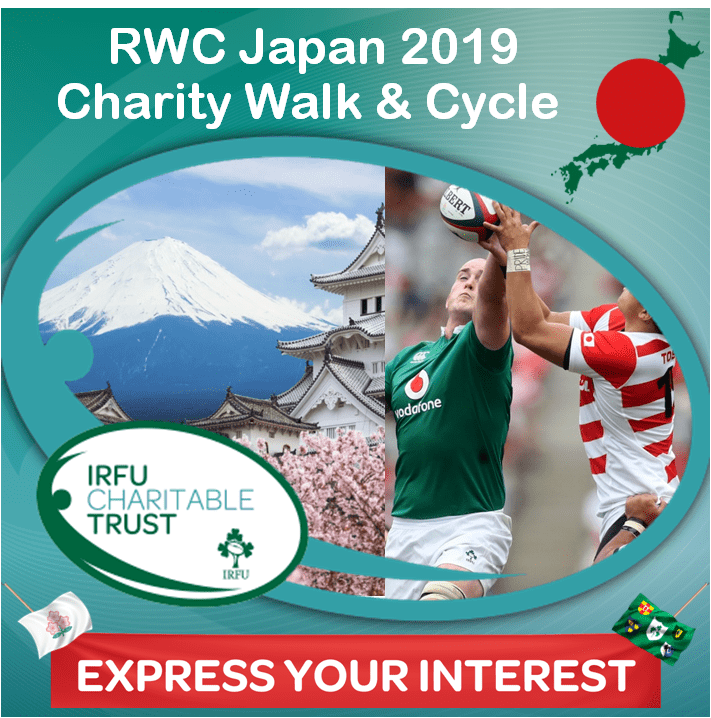 IRFU Charitable Trust – Japan RWC 2019 Charity Walk
&

Cycle
A very special fundraising initiative to help raise funds to support our seriously injured players will take place during the Rugby World Cup in Japan in 2019. Visiting stunning locations including Fukuoka, Hiroshima and Shimanami Islands, Onomichi, Kyoto, Mount Fuji and Tokyo the Charity Walk & Cycle will take in Ireland's final pool match as well as Quarter Final 2 and Quarter Final 4.
This Charity Walk & Cycle is a once in a lifetime opportunity and if interested, please contact Linda on 01 647 3866 or by email: charitabletrust@irfu.ie.
Places are limited so please book early.
Below is a brief summary of the trip with some elements to be finalised:
09th October: Depart Dublin
10th October: Arrive Fukuoka
11th October: Walk/Cycle in Fukuoka
12th October: Match in Fukuoka Kakatanomori Stadium: Ireland v Play Off Winner
13th October: Transfer to Hiroshima Shimanami Islands
14th October: Walk/Cycle in Onomichi
15th October: Transfer to Kyoto
16th October: Transfer to Mount Fuji with Walk/Cycle
17th October: Walk/Cycle in Mount Fuji
18th October: Transfer to Tokyo
19th October: Match in Tokyo Stadium: QF2: Winner Pool B v Runner-up Pool A (Ireland Pool)
20th October: Match in Tokyo Stadium: QF4: Winner Pool A (Ireland Pool) v Runner-up Pool B
21st or 22nd Oct: Depart Tokyo